Ed Sheeran is a very famous singer and one of the most known singers of today.
Most of his songs are romantic and cheesy.
But he has a lot of fans belonging to all age groups.
Even though he doesn't have a very unique singing style or unique voice, he still produces a lot of bangers.
If you are an Ed Sheeran fan, you must have thought about this, "How to Sing Like Ed Sheeran?"
You can't exactly sound like him but you can pick up his singing style and techniques to sing similar to him.
Remember that everyone has a different voice.
Therefore, nobody can sound exactly like someone else.
But with a few tips and tricks, you can sing similar to Ed Sheeran
[thrive_leads id='5517′]
Ed Sheeran Voice Evolution – Tips and Tricks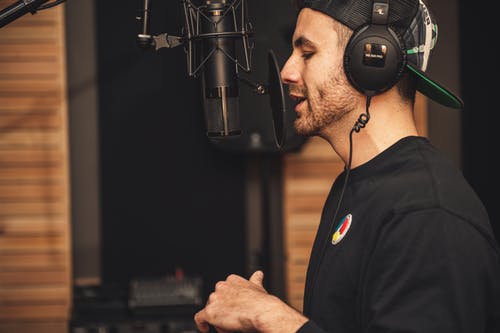 Before jumping towards the actual tips and tricks, there is something you should know.
Ed Sheeran is known to have practiced 30k hours to reach such popularity.
 Now you must think that it is a lot and you can't do it.
Well, you don't need to sing all day every day to reach this goal.
You can sing only for 30 minutes a day and you will notice a lot of improvement in your singing.
Eventually, you will reach these many hours of practice too.
Now, let's dive into the tips and tricks!
Relax Your Voice
In most parts of his songs, Ed Sheeran sings in a relaxed voice.
It is not easy to sing in a relaxed voice without practice.
You must practice your relaxed voice if you want to sing as well as Ed Sheeran. 
Listen to his songs and sing along to the lyrics.
This way you will learn a lot about his singing techniques. 
Try to keep your singing smooth when you are singing in a relaxed voice.
Stay On Certain Notes
When Ed Sheeran sings, he stays on certain notes for most of the song.
For example, when he sings the chorus of his song "Happier", he stays on the high note for most of the chorus.
When you sing, your voice breaks in between and switches between different notes.
Without practice, you can't achieve a balanced voice.
Staying on a certain note requires as much practice as switching between different notes does. 
How to Sing Perfect by Ed Sheeran
Switching Smoothly
When Ed Sheeran goes from high notes to low notes, it sounds so smooth like melted butter gliding on a toast.
You have to sound like that too when you switch between different notes.
For this purpose, try to sing in different notes first without switching.
When you think you have mastered two notes, try to switch between them.
Go up and down, then back up and down and repeat. 
This technique requires a lot of practice and no wonder how Ed Sheeran practiced for 30,000 hours. 
Here is an article we wrote showing you how to sing like Chris Brown
Vocal Fry
This technique is used a lot in the start of his songs.
Most of his songs sound like this:
1- The words are very relaxed and smooth.
2- He switches between notes and goes to higher ones.
3- In the chorus, he uses the highest note.
4- In the end, he comes back to a relaxed and smooth voice.
Now, vocal fry can be used at the beginning as well as the end of Ed Sheeran's songs. 
To practice this technique, try to say the word AAHH from your chest voice and try not to emphasize much on it.
A lot of practice in this technique will help you achieve the professionalism of it. 
Also here is an article I wrote showing you how sing like a pro
[thrive_leads id='5517′]
Mixing Your Voice
When you sing on a high note, you must care about one thing that you are not screaming.
You must be singing in a good voice even when you are singing on a high note. 
It is hard to note sound bad when you are singing loudly.
You must take care of this thing if you want to sing like Ed Sheeran. 
Emphasizing on the Lyrics
The lyrics of Ed Sheeran's songs are always so good.
It seems like they are telling you a story.
He never fails to come up with good lyrics. He focuses a lot on his lyrics.
If you want to sing like him, you must learn all of his lyrics by heart.
Messing up the lyrics is not an option.
Moreover, if you plan on producing your own song like Ed Sheeran, then you must come up with some good quality lyrics. 
Slowing Down the Notes
We have talked about going from high notes to low notes before.
But this technique is slightly different than the one mentioned above.
Ed Sheeran sings in a high note and then comes back to the lowest note slowly.
It means that he doesn't switch between the highest note and the lowest note instantly.
Rather, he comes to the lowest note slowly.
He sings in a high note and then backs up slowly until he reaches the desired low note.
You must practice this technique by incorporating more than two notes in your singing.
It might be hard at first but once you master this, the other techniques become easier. 
Practice A LOT
Consistency and practice are the two most important things if you want to sing like Ed Sheeran.
You have to practice a lot until you think you are good enough.
 It will take a lot of time to reach his professionalism but you should never give up.
Practice on Ed Sheeran's songs and every day you will learn something new to try from his songs. 
Frequently Asked Question
Did Ed Sheeran teach himself to sing? From reading about his childhood and growing up, yes he taught himself to sing. He taught himself to sing by doing Craig David and Beyonce Riifs and practicing on his own.
What type of voice does Ed Sheeran have? Like most pop musicians out there, Ed Sheeran sings in chest mix and head/falsetto. This is how he creatively uses his low tenor voice to make him an international superstar.
Does Ed Sheeran use autotune? From listening to most of his songs, I can tell you that he does not use autotune.
How many Octaves can Ed Sheeran Sing? He has a vocal range of 3.00 octaves which means that he can really belt out without his voice distorting.
Conclusion
Now that you know how to sing like Ed Sheeran, you can also produce songs like him.
There are a few things to keep in mind if you want to sing like him.
You must practice switching between high and low notes, your relaxed voice, vocal fry and other techniques mentioned above.
He sings very sweetly and smoothly so try to sing that way. 
Moreover, only use his songs if you want to sing like him.
Otherwise, it would be hard if you use someone else's songs. 
[thrive_leads id='5517′]