A few months ago, I had space issues in my house.
I had just gotten a grand piano and I was excited to start playing it but the problem was space and fitting it in my small house.
So while looking for designs and solutions that other people had used, I decided to write this article.
If you have a small house and you are wondering where to put a piano in a small house, then I have some awesome design tips for you.
Having a small house comes with lots of issues that you have to deal with and the major one among them is space.
A piano, especially a grand piano is a big instrument and finding the space to fit it in a small house with small rooms can be a big issue
In this article I will be showing you some designs I found on how some people are actually fitting their pianos into their houses.
Hopefully you get some inspiration from these.
1. Near a White Curtain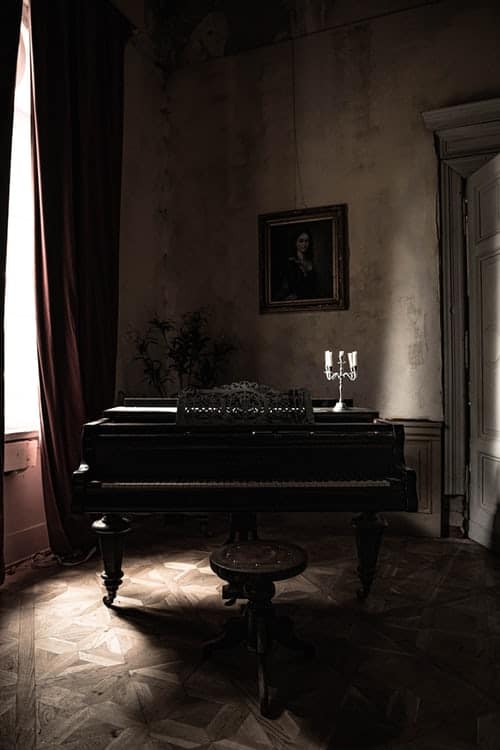 I really like this aesthetic and the feel of this design.
It gives off this grandiose look and feeling of royalty everytime you sit to play the piano.
Setting this up near a white curtain and just by the window will also ensure that you have a spectacular view and get some sunlight while playing the piano.
I will definitely recommend this and you should too if and when you have the space in your house to fit it in.
Also if you can get the stool, as this gives you the required height to effectively play the piano and make beautiful music.
2. Alone in a Room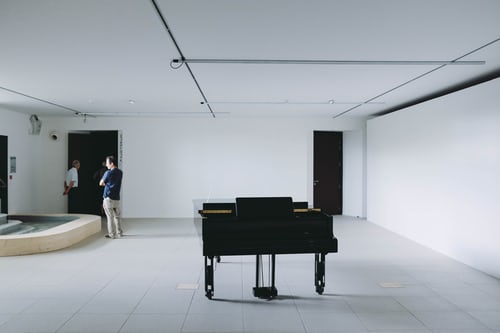 Having a dedicated room where you can fit and play your piano is awesome.
One thing I like about this design is that you have your privacy and there are no distractions.
It's just you and the piano so you can actually block off time and focus while playing the piano.
In a small house, this might be difficult to come by but if you can, you definitely need to fit this in.
One thing you need to note is that you want to ensure that the temperature and humidity in this room are regulated.
3. Near Windows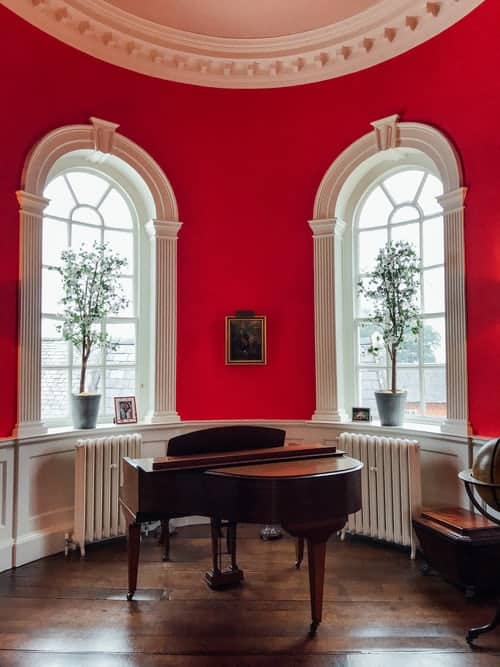 This is one design that really caught my eye.
I like the red color and the way it pops. This really catches the eye and creates makes it very pleasant.
One thing you should also note here is the curtains and the white color – the way it also pops and makes the place really beautiful.
Also looking at the ceiling top, it is really beautiful and just makes the playing experience very awesome.
I really like this design and if you look at it, you will find out that it does not require much space.
So this can perfectly be fitted in a small house.
Absolutely gorgeous and breathtaking. I love it
4. By A Mirror or Wall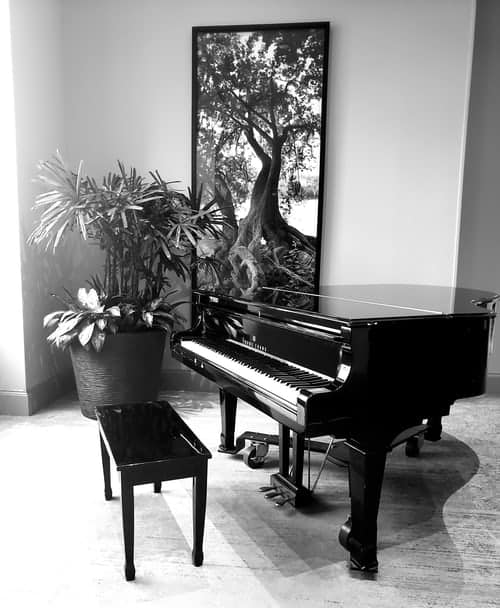 This is another design that works really well and will fit into a small house.
It can be placed just by the corner of the house and does not requires much space.
One thing I like about this design is the flowers just by side.
It gives this very welcoming atmosphere and lively home experience…and then with the picture of the tree just by the corner, it's all a very nice feeling and experience.
This is one design that I will definitely like to try…and I suggest you give it a try too if you have the chance.
5. By A Green Plant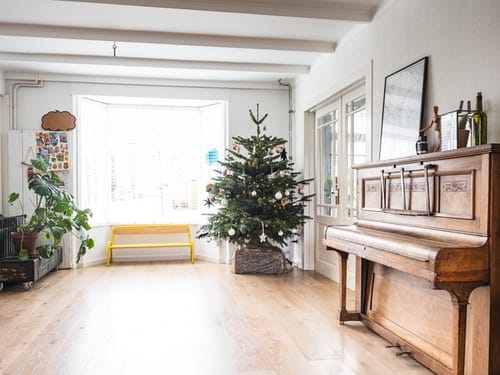 This is simply magnificent and beautiful.
One thing I like about this is that it does not take up much space. It is just by the corner of the room and does not cause any interruptions.
Also the finishing on the floor is breathtaking and very smooth.
I really like this design and I will suggest you get it if you have to deal with space issues in your house.
6. By The Christmas Tree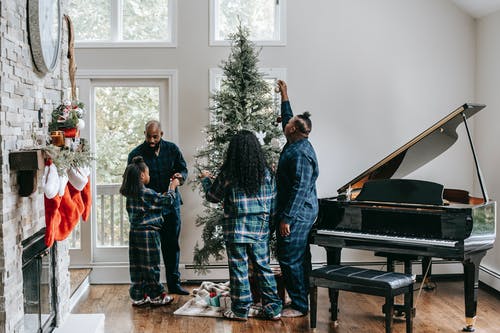 If we are in the festive season, then there is no better place to place a piano than by the Christmas tree.
This feeling of togetherness and warmth in this design will ensure that you and your family have awesome memories playing the piano.
I totally love it and will suggest you get this for your small house.
7. By The Corner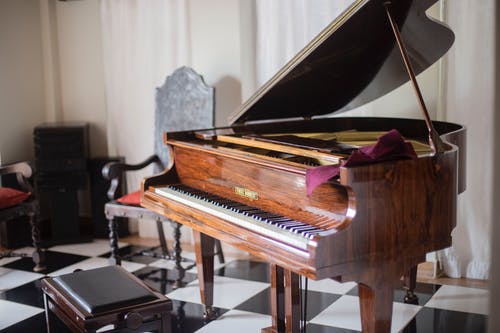 This is another corner design that I absolutely love.
It just makes sense having your piano by the corner because it does not take up much space being there.
And for me, this is what I always look out for.
Placing my piano just by the corner or in some cases by the windows is ideal.
8. By The Couch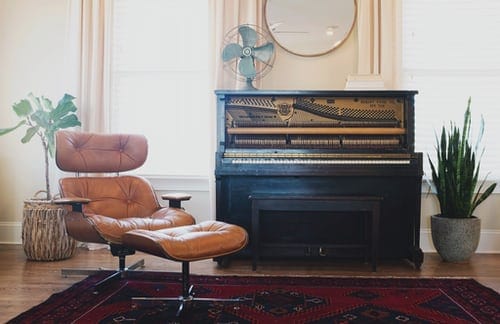 This is a beautiful design with the couch and the flowers.
I like the way it is placed with the right amount of light just coming in.
I strongly suggest you get this design.
9. Under the Chandelier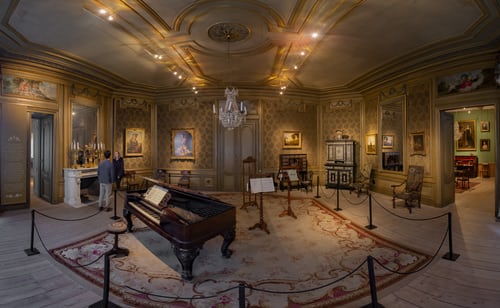 If you have a chandelier, then flaunt it.
No stories here. This is a beautiful design and I bet you will play good music playing under your gorgeous chandelier.
10. In the Library