If you are like me, then you are always on the hunt for the next awesome condenser microphone.
A condenser microphone as you already know is an awesome addition to your microphone gear as it helps you record clean quality vocals and instruments
But with the thousands of condenser microphones out there, how do you know which one to pick?
In this article, lewitt lct 240 pro review, I will be taking a detailed look at this microphone, the pros and cons and how you can easily get this microphone at the cheapest price
What's in the box?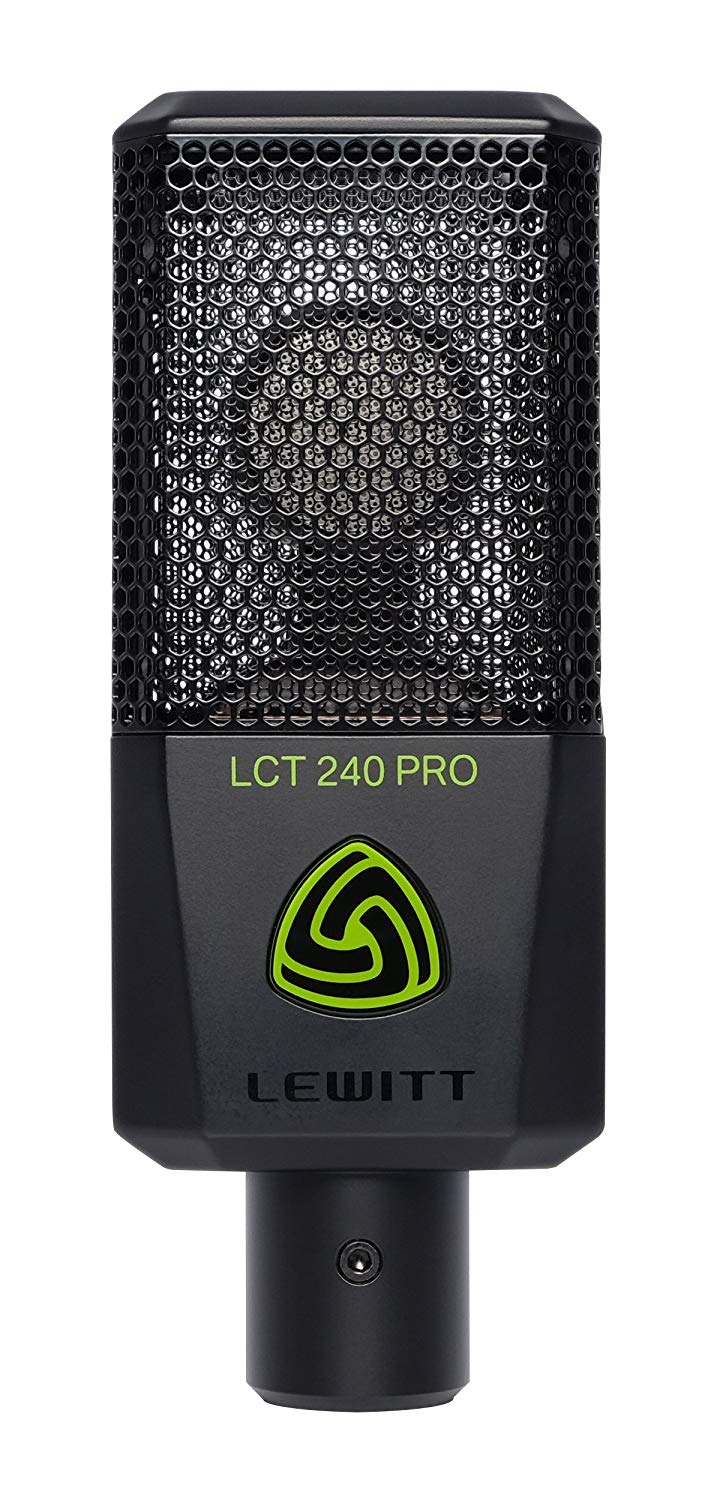 First you get a zippered leather transport bag
You get the microphone
You get a microphone mount which comes with a 5'8 to 3'8 inch adaptor for connecting the microphone
A phone windscreen
Documentations and specifications sheet
And finally a rubber bracelet
The Design / Build Quality
As far as build quality goes, this microphone is really well put together and very solid
It has an all metal construction and a dual layer metal mesh grille which protects it from scratches and wear and tear
As you move around the microphone, you find out that there are no buttons or switches on the microphone
On the bottom you will find the XLR port for connecting the XLR cable to the microphone
The shock mount provided is made from quality metal and material which helps prevent vibrations and background noises from disturbing your recordings.
Related: 10 Best Condenser Microphones
Specifications
Type Condenser, permanently polarized
Acoustical operating principle Pressure gradient transducer
Transducer Ø 17 mm, 0.67 in
Polar pattern Cardioid
Sensitivity 16.7 mV/Pa, -35.5 dBV/Pa
Equivalent noise level 19 dB (A), cardioid
Max. SPL for 0.5 % THD 142 dBSPL
Dynamic range 123 dB (A)
Internal impedance 100 Ω
Rated load impedance 1,000 Ω
Supply voltage 48 V ± 4 V
Current consumption 3.1 mA 
Connector Gold plated 3-pin XLR
Microphone dimensions 138 x 52 x 36 mm, 5.43 x 2.04 x 1.42 inch
Microphone net weight  310 g, 10.9 oz
The Performance
The LCT 240 Pro is a condenser microphone that is ideal for recording vocals, instruments and podcasts.
It features a professional high performance condenser capsule that gives you that professional studio sound quality that you want.
The LCT 240 Pro boosts the specific and required frequencies for intimate, modern and professional sounding vocal or instrument recordings
It is an easy recording microphone with its own unique LEWITT sound which makes it the preferred choice for a lot out audiophiles out there.
In use, the LCT 240 does what it's intended to do – it seems to work on just about everything with a slightly bright but smooth sound. 
Compared to the 440, it seems to have a bit less low end, a bit more bite in the uppers and then softer "air" frequencies. 
Sensitivity is lower, and noise is higher as a result of the smaller capsule, but still within easy to use limits (specs are roughly similar to some small diaphragm condensers). 
What we want to hear from a mic is always going to be subjective, and one person's "warm" may be someone else's "dull", and "harsh" on one source might be "clear" on another. 
What makes a microphone flexible is often how it behaves off axis – can we turn it a few degrees for a warmer or brighter sound or does it go phasey or thin when we do that, and can we eq the sound without finding unpleasant resonances or discovering that we're missing detail. 
Whilst the LCT 240 doesn't, to my ears, have quite the same sense of openness of the larger capsule 440, it does respond very well to being positioned, and on some sources (like my acoustic guitar with well-past-their-best strings on it) the slightly brighter/less boomy sound was actually easier to use. 
If you do prefer the sound of the more expensive LCT 440 Pure, bear in mind that for the extra cost you also get the excellent Lewitt shock mount and magnetic pop-shield!
Pros
It is a very detailed and bright microphone which delivers exceptional audio quality
It is very affordable making it a beginner / entry level option
It has awesome accessories that come with it
Cons
The microphone has a little issue with dealing with sibilance and breath problems
There is a little grain / grit which you can hear in the upper frequencies
The self noise of about 19dB is a little higher than most people are used to
Related: 5 Best Condenser Mics for Vocals
Overall thoughts
This microphone is a solid microphone and will add a lot of variety to your microphone cabinet
On the electric guitar, the lower frequencies were a little bit loose and muddy and lacked some tightness and punch to it
On the acoustic guitar, the mic performed absolutely well with it sounding detailed and clear
For singing and recording vocals, it absolutely killed it.
It had a detailed and crisp sound
Overall, at a very cheap and affordable price, you are getting a really good mic that sound great, is durable and lasts for a very long time.
As an alternative you can also check my detailed review of the Audio Technica AT2035.