This post contains references to products from one or more of our advertisers. We may receive compensation when you click on links to those products.
Wanna get a new microphone and searching for AT2035 reviews?
Most people looking for good microphones to record their vocals mainly lean towards the Audio Technica brand
And you might be considering picking up the AT2035 microphone for your home studio.
Well not to worry, cos in this article I will be doing an in depth review of this product and showing you the good, the bad and ugly
What's in the box?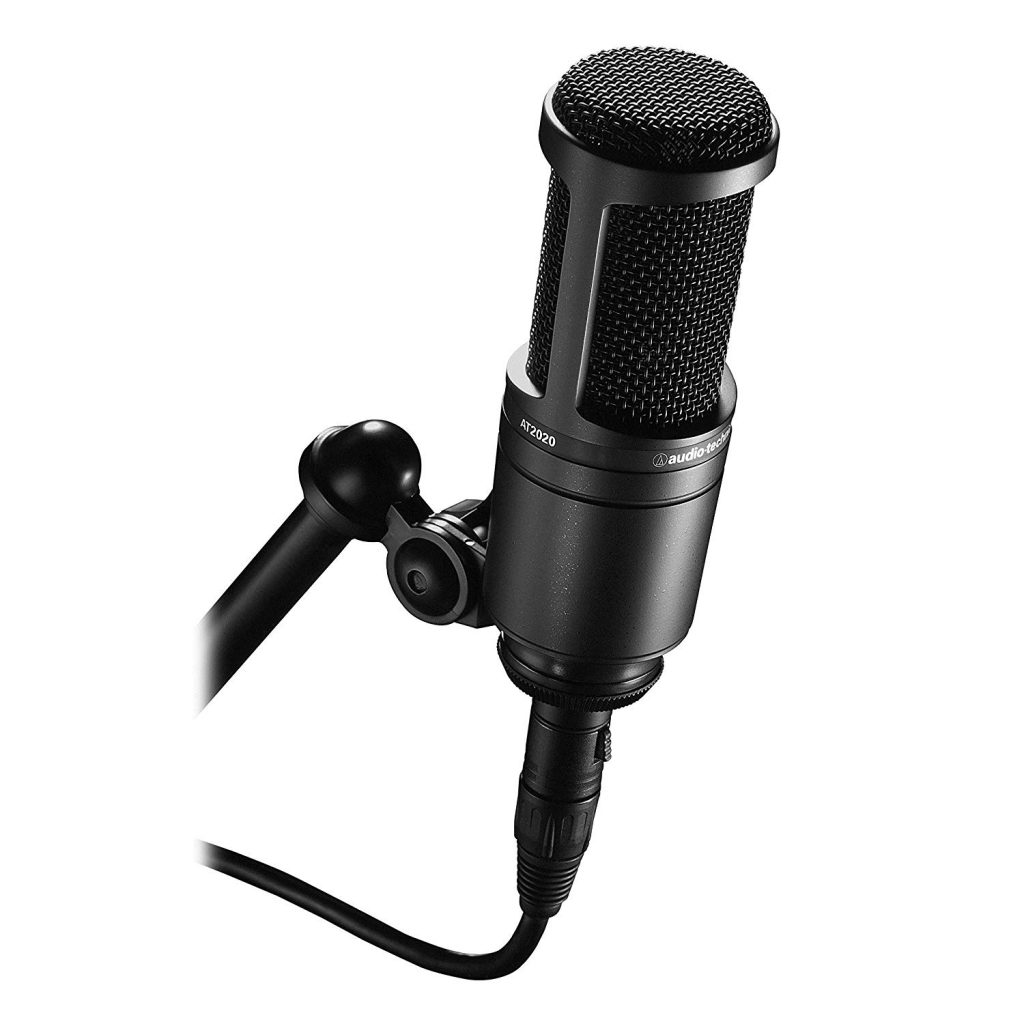 The AT2035 is an XLR condenser microphone which means it requires its own preamp to work properly
You can easily connect this microphone to your computer using the Scarlet Solo USB interface which comes with a 4V phantom power
Obviously it comes with the microphone in the box
It also has a unique shock mount which helps keep it steady and reduce background vibrations
You also get a plastic version of the 5''8 to 3''8 standard mic adaptor
It also comes with a really nice padded carrying couch and its own user manual for easy directions and specifications.
Click here to get this mic at the lowest price on Amazon
The Design
Just like all Audio Technica products, the build quality of this microphone is pretty awesome with an all metal construction, all metal grille with a nice weight to it
With a matte black finish and understated controls, the mic looks professional and classy.
The pad and low-cut switches are recessed at the base of the back of the mic. 
I haven't had the misfortune to drop the thing yet, but the mic's metal construction seems sturdy enough. 
The shockmount is well-designed and doesn't seem likely to result in any mishaps. 
The mic has a standard LDC frequency response of 20Hz-20kHz. 
The response is fairly flat, although there is a presence peak around 12 kHz. 
The AT2035 can handle up to 148dB SPL, 1 kHz. 
The pad can be engaged for another 10dB. 
This will enable it to handle most sources without any issues. 
The design pairs this high SPL rating with low self-noise of 12dB EIN. 
The signal to noise ratio is 82 dB, 1 kHz at 1 Pa.  It has a 0.8″ electric capsule with a thin diaphragm (2 microns).
Related: 10 Best Condenser Microphones
The Specifications
Audio
Analog or digital: Analog
Frequency response: 20Hz – 20kHz
Max SPL: 158 dB
Connectivity: XLR
Pattern and Type
Capsule: Condenser
Polar pattern: Cardioid
Type: Mounted
Switches: Pad, filter
Phantom power required: Yes
Size and Weight
Diameter: 2.1 in.
Length: 6.7 in.
Weight: 14.2 oz.
Included Accessories
Case: Yes
Clip: No
Shockmount: Yes
Power supply: N/A
Cable: No
Stand: No
The Performance
The AT2035 has two buttons at the back of the microphone which helps deliver crisp and clear vocals
The first button is a 10db pad which helps when micing loud sound sources like a guitar amp and other really loud instruments
The second one is a bass roll off which just cuts a little bit of the low frequencies below 80Hz to help with low frequency rumbles
Its unique shock mounts made from plastic is relatively sturdy and keeps the mic from moving around and vibrating when being used
When paired with a female vocalist with a full bassy voice, the AT2035 accentuated the bass far too much. 
Naturally I engaged the low cut to compensate. 
However for my purposes this chopped out too much of the bottom end and was not satisfactory either. 
I found the AT2035 resulted in similar issues when recording a coarse vocalist with a bass-heavy voice. 
In both situations I tried the MXL 2006, a significantly cheaper LDC, and got better results. 
It seemed to hit the right balance of bass more readily. 
When used on a male rock vocalist with a thin voice and very dynamic performance, the AT2035 hit the mark much better. 
The warm bass reproduction helped fill out the sound. 
The mids sounded beautiful and the highs were smooth.
Instrument Performance
One unique thing about this microphone is that it can be used on a wide range of instruments
With its broad and flat response it sounds extremely well when used on acoustic instruments and pianos.
It also works very well as a drum overhead and is ideal for voice over work
Due to it's high SPL rating, it can also be used for recording brass instruments and electric guitar.
One thing I did was I miked up my amp to record rock guitars and I found out the AT2035 was a bit unfocused
Using other mics such as the SM57 produced a much better result
Overall Thoughts
The Audio-Technica AT2035 is one of the best LDCs in the sub-$200 field. 
It has a good feature set, rugged construction and it is capable of performing well for a number of applications. 
Its warm sound is very much at home on acoustic instruments or vocals. 
Some users swear it outperforms much more expensive mics, although that hasn't been my experience. 
In fact it's been outperformed by cheaper mics on my set-up. 
It's a good mic for the price but I would strongly suggest trying it before you buy as its response is only flattering for certain types of singers.
The mic is outstanding for its price… Such a clear and warm sound!
Very responsive with a rich, full sound and a great signal to noise ratio.
It is a solid condenser mic for a really good price.
Used it on guitar, drum overhead, and vocals, and so far it's been great on all.