A few months ago I decided to get a new condenser microphone
It was a huge decision for me because I was about to spend some huge bucks I needed to make sure I was getting the right product
I was switching between Audio Technica AT4060a and the Audio Technica AT2035 condenser microphone
But guess what?
There was not a single review about either of them on the internet…
So i eventually got the Audio Technica AT4060a and decided to do an in depth detailed review about this microphone.
I will be telling you about the design of this microphone, the performance, the pros and the cons and where you can easily get this microphone at the cheapest price.
What's in the box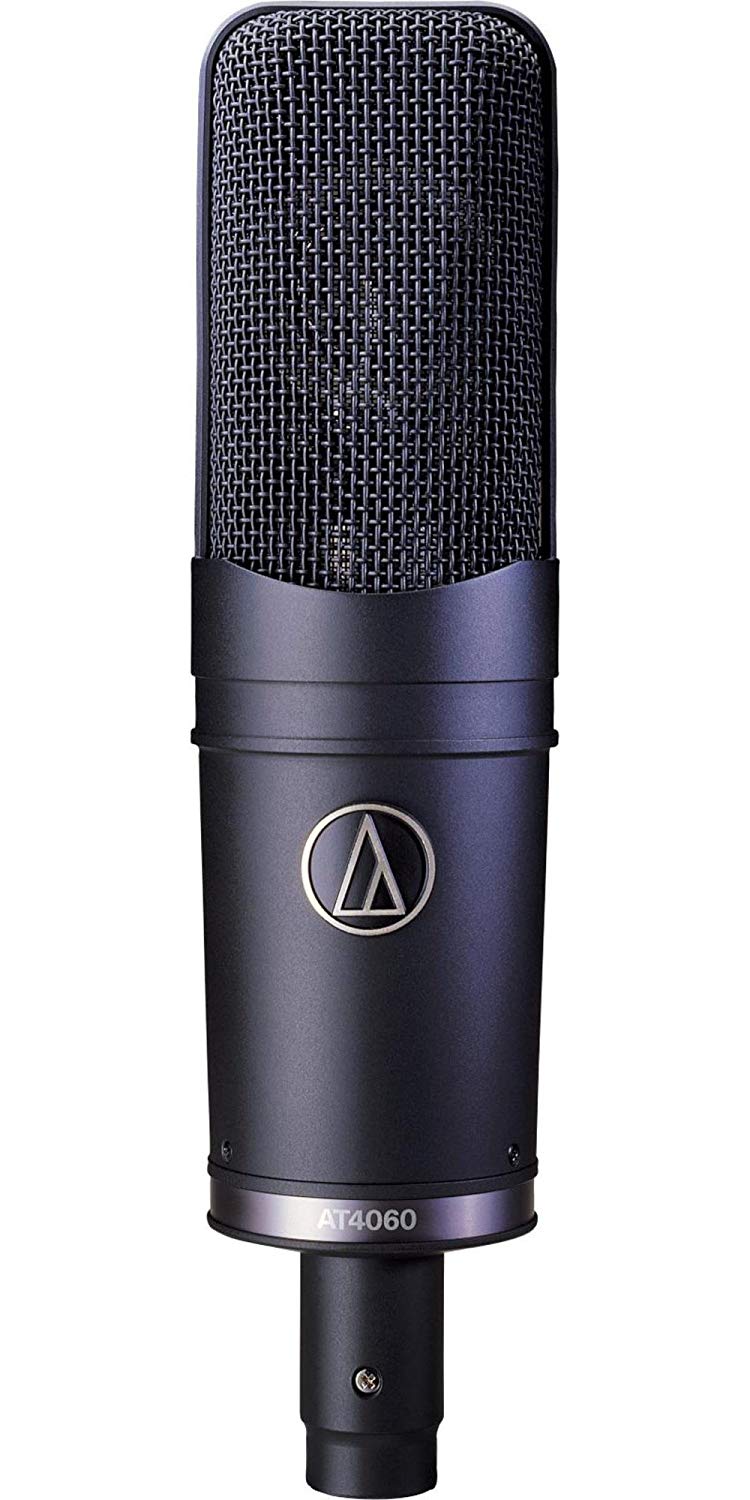 When you purchase the Audio Technica AT4060a microphone, you get the following
Shipped in a large cardboard box, the microphone resides in a form fitted carry case
A suspension shock mount
A 7.5m cable with canon connectors
An Audio Technica Tube powering unit
The Design/ Build Quality
The Audio Technica At4060 is a well crafted condenser microphone that delivers awesome performance when used.
It comes with a cardioid vacuum-tube condenser which provides people with the warmth and essence of classic tube sound that can be considered as vintage. 
No matter what the SPL spectrum is, you will get vintage quality tube sound for each shade. 
It has a very dynamic range which easily exceeds the range of other microphones (tube) available in the market. 
The AT4060A microphone captured the subtlest of nuances of instrumental and vocal performances and can even handle guitar cabinets in all kinds of SPL environments.
The AT4060A's body looks like a lengthened version of their popular AT4050 solid–state mic, where the extra space is needed to accommodate the hand–selected valve — a miniature type fitted into an anti–vibration mounting.
It is finished in Satin black and features a symmetrical basket structure, with the A-T badge indicating the hot side of the capsule
Power comes from the included AT8560A power supply, a 1U half–width unit that can be switched to operate at 230 or 115 V, at 50 or 60 Hz. 
This hooks up to the mic using the supplied six–pin XLR cable. 
As with the original you get an input for the mic, a three–pin XLR output and an IEC mains connection. 
There are no controls other than a power switch on the front panel and a ground–lift slide switch on the rear, with a discrete LED letting you know the power is on. 
As you'd expect from Audio-Technica, the build quality is impeccable.
Specifications
ELEMENT – DC bias (Externally polarized) condenser
SENSITIVITY (OPEN CIRCUIT) – -34 dB or 19.9 mV
FREQUENCY RESPONSE – 20 to 20,000 Hz
IMPEDANCE – 200 ohms
POWER REQUIREMENTS – AT8560 or 120V/230V AC power supply
MICROPHONE WEIGHT – 22.6 oz or 640 g
POWER SUPPLY WEIGHT – 4.19 lbs or 1.9 kg
CABLES – 32.8 inches or 10 m cable, also includes 6-pin XLR type connectors
SIGNAL TO NOISE RATIO – 75 dB
INPUT SOUND LEVEL (MAX) – 150 dBSPL or 1 kHZ @ 1 % THD; 149 dBSPL or 1 kHZ @ 0.5 % THD
The Performance
The AT4060 is not one of those microphones that serves up a soupy, overblown valve sound.
I noticed the upper mids and highs are lifted very slightly which gives the mic a nice sense of detail
On most sources, it sounds very natural and refined without all that hypey sounds found in most microphones of this price
In subjective terms the mic does manage to add a little subtle flattery, but in such a way that you hardly know that it's doing it. 
There's a bit of a bump in the upper bass that balances the slight high lift so that you don't sacrifice warmth for clarity, while the high end manages the trick of being both detailed and smooth sounding. 
If you want a more airy vocal sound you can add some high-shelving EQ without adding harshness.
The frequency response of the mic, while not flat, doesn't have the extreme peaks and valleys of some of the other mics I've encountered that are offered by other companies. 
The graph indicates a rise in response from about 20Hz to 200Hz, with the peak at 200Hz.
 Also, from 2kHz to what seems to be a standard roll off for tube mics at 12kHz, with the most prominence in the 6–10kHz range.
The mic had a pleasant tone on vocals both male and female. 
I also found, though, particularly with the male vocalists, that the mic sounded better the louder you sang; it seemed best suited for aggressive singing.
 Generally, vocals tend to sound better with this type of compression, but it just made them sound woofier and less defined. 
Related: 5 Best Condenser Mics for Vocals
In my opinion, compression definitely brought out all the wrong frequencies of this mic on vocals.
On an acoustic guitar, the mic sounded very pleasant and warm.
It didn't sparkle or give off any over high frequency sounds
The one thing I noticed was that because of the proximity effect and the fairly uniform off axis rejection, you might need to fish and move the mic around to get that sweet spot.
Pros:
1. Vintage Sound – the AT4060A microphone offers vintage quality tube sound, making it ideal for all kinds of recording situations.
2. Offer clear sound – it comes with regulated heater current that helps in preventing contamination of the audio signals by noise, thus offering clear sound.
3. Optimal Performance – the microphone has been created to offer optimal performance consistently for a long period of time.
Cons:
1. Not ideal for personal use – the microphone is mainly for studio use and may not offer optimal performance in home recording sessions.
2. High price – the microphone costs more than thousand dollars, which can be considered as high by some consumers, but is worth it if you're wanting to invest in  a serious piece of equipment.
Related: 10 Best Condenser Microphones
Overall Thoughts
Although it comes at a very high price and may stretch your budget, the Audio Technica AT4060 is a truly professional and high grade microphone that will deliver exceptional performance for a very long time
For anybody who wants to have a very solidly built tube mic that is affordable enough that you could get a pair of them for less than the price of a single U87, the AT4060 is definitely worth considering.