This post contains references to products from one or more of our advertisers. We may receive compensation when you click on links to those products.
Thinking of starting your own home recording studio?
Then you definitely need a condenser microphone – right
But not just any condenser microphone but one that actually records awesome vocals and delivers exceptional quality
So which condenser microphone do you pick?
By my last count, there are actually thousands of condenser microphones in the market today.
How do you go about making an informed choice for a good condenser microphone?
Well in this article, Neewer NW-700 Review, I will be going over this awesome microphone in detail, what makes it tick and where you can get it online at the cheapest price
What's in the box?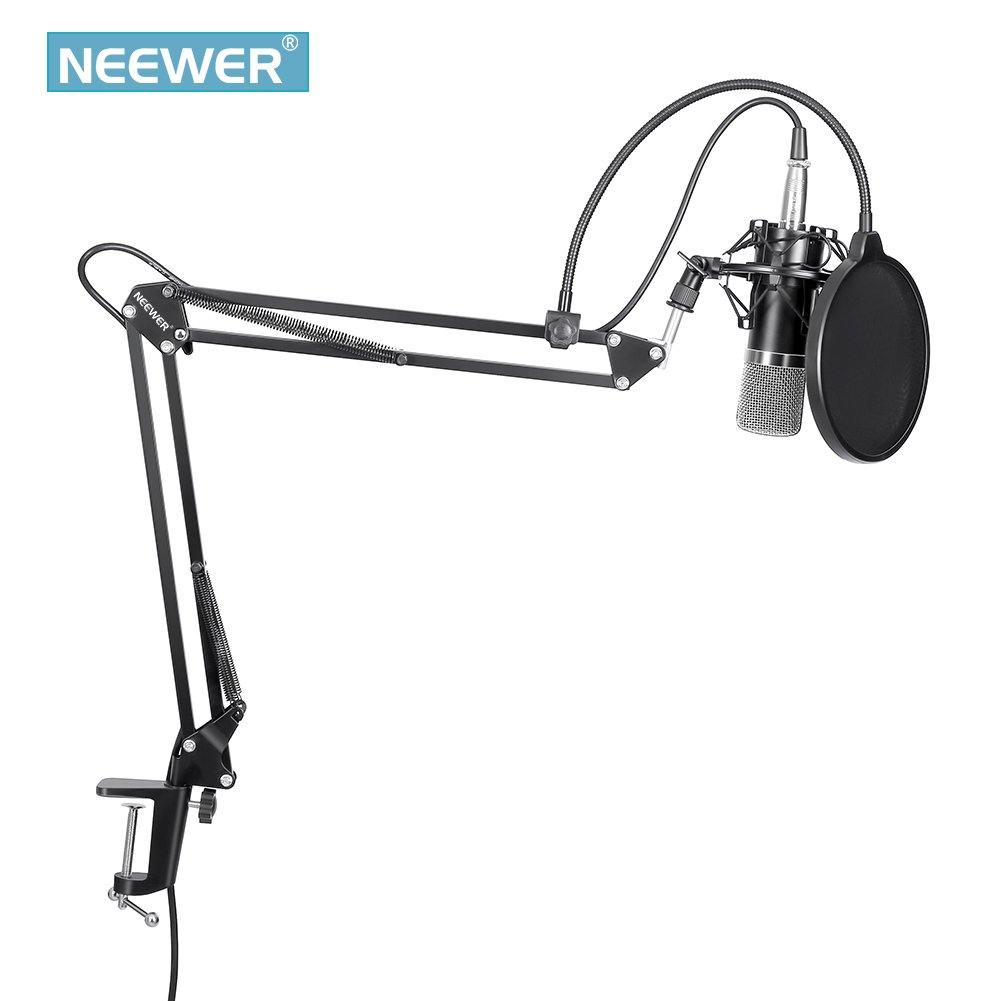 When you decide to get the NW -700 microphone (which you can get from Amazon.com), here are the things included in the box
Obviously you get the microphone
A metal shock mount which helps to reduce vibrations and background noise
3.5mm to XLR audio cable for easy connections
An Neewer arm for adjusting the microphone on your desk or stand
An arm mount for mounting the mic on to your desk
A pop filter for dealing and removing breath issues and sibilance
A windscreen also for dealing with breath issues
A user manual and a specifications sheet
Assembling this microphone kit is very easy
First you wind the desk mount to fit around your desk and then clip it into place
Then you insert the arm into the clamp and tighten it
Next you screw on the shock mount and ensure that it is well screwed on
Finally insert the microphone in the mount and slip the windscreen over the mic
And lastly clamp down the pop filter over the microphone and you are good to go.
Related: 10 Best Condenser Microphones
The Design
The build quality of this microphone is better than I expected
Looking at it, you can see that there is a solid and sturdy feel to this microphone
The body is made from aluminium and high quality metal that makes it durable and long lasting
The grille mesh and the solid steel body ensures that this mic is not affected by wear and tear
Related: 5 Best Condenser Mics for vocals
Features
cardioid pick-up pattern
metal mic body
with adjustable steel adjustable scissor arm stand
folded type arm stand
with windscreen pop filter mask
with metal shock mount – adjustable angle
with ball-type anti-wind foam cap
with 3.5 mm male to XLR female cable
not compatible with tablets, mobile phones & Mac products
works with 5V device
item weight: 1.9 lbs.
product dimensions: 6 in x 19 in x 9 in
The Performance
One benefit of using the Neewer NW-700 Professional Condenser Microphone is having a high-quality output – the condenser microphone gives rise to full-bodied and rich audio output with the help of the device's new audio circuit.
The cardioid pick-up pattern of the condenser microphone also helps in isolating the main source of the sound and minimizing unwanted background noise to pave way for clear recording. 
In any microphone brands, the sound quality is a primordial consideration and this particular condenser microphone covers such aspect just fine.
In addition, the condenser microphone also comes with a durable and an adjustable scissor arm stand.
The sturdy and durable quality of the stand is backed up by the mount's complete steel construction and double braced arms.
And because the condenser microphone stand can be folded, it makes carrying the product as well as the stand around easy and convenient.
The condenser microphone is also known for its versatile character as the device can also be mounted on the announcers' table.
The excellent voice quality that the condenser microphone produces is also due to the fact that the product has a shield in the form of a windscreen pop filter mask. 
Not only does the filter help in ensuring that each and every track is easy to understand as well as audible, but the filter also helps in giving a clear and loud audio output by getting rid of the unwanted lisping and hissing sounds that normally come with an audio recording.
Another nice component of the condenser microphone is the metal shock mount that accompanies it.
The said mount allows easy adjustment of the angle of the condenser microphone and keeps the position in place with its locking knob.
The shock mount is helpful in addressing the possible noise created while holding the condenser microphone.
Furthermore, the condenser microphone has an anti-wind and ball-type foam cap. 
This particular feature hits two birds with one stone as the condenser microphone is not only protected from any wind interference that affects the quality of the recording but it is also protected from the negative effects of projectile saliva coming from the users.
To complete the package, it is good to note that the condenser microphone can be purchased at a fairly affordable and reasonable price. 
Having a good condenser microphone is one thing, but getting it at a cost that does not bleed the pockets is always a wanted bonus.
Pros
It has amazing sound quality for the price
The sounds are clean, crisp and professional
Cons
You will need to get an audio interface to work with this
The plug to XLR cable is a bit too tight. This makes it very difficult to easily connect and disconnect the cable
Compared to your other microphones, there is a bit of noise but for this very cheap price this microphone is an absolute steal
Conclusion
This microphone is highly recommended for someone who is just starting out in audio recording and needs to learn the ropes
It is a great microphone. It sounds awesome and is super cheap.
I highly recommend it for recording vocals, for podcasting and for gaming.
One good thing about this is that it is an XLR microphone. This means that if you want to upgrade to something better in future you can easily do so.
All in all…this microphone gets an A from me for beginners and if you are looking for something cheap and budget friendly