Several people say that from birth, singing was Whitney's thing while others say that her childhood environment had a toll on her in that direction and that caused her to have the pitch-perfect that everyone admires.
Possessing such a tone means that you can perfectly duplicate a note regardless of its position on the musical scale.
For the non-music fellows, to know that someone has a that perfect pitch, you'll hear them sing something similar to acapella anytime and anywhere.
An instance is when a request was made in the Arsenio Hall that Whitney should sing "Guide Me O Thou Great Jehovah".
The astonishment on the faces of the crowd was so dramatic, as she sang it with an incredible tone and a perfect pitch.
It will be very difficult to sing such a song if you do not possess a perfect pitch.
[thrive_leads id='5517′]
Can you sing a perfect tune just like Whitney?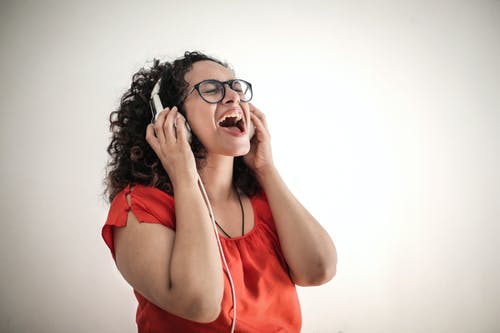 When singing with live instrumentation, you must sing in tune too.
There was once a time Mary J made several performances in the early time of her career and was always out of line, or sounded horrible or even went off-key.
After a while, she admitted that she normally took drugs then and this had probably caused her problems.
However, that is in the past as she sings on a better pitch.

Another singer was Chaka Khan who was well-known for her ability to always be out of pitch when making a live performance.
Her case was also one caused by drugs and he later dropped that habit.
The opposite was the case in Barbra Streisand who all knew that she was always good at detecting the incorrect notes in her music performance and tried her best at avoiding such errors.
This was one of the things that amaze people when she begins showing off her musical talents.
Similar to Barbra Streisand was Donna Summer who through her capabilities wrote down several dance classics in her time and was very particular when avoiding errors in her music or singing out of tune.
While these all took their good and bad at music, a musician who could sing up and down the scale without faltering was Stephanie Mills.
She was always dripping with soul and didn't give a damn of who was watching as long as she made good music.
Related: Check out this article I wrote showing you how to sing like Ariana Grande
Tips on how to sing like Whitney Houston
These various female musicians are well-known in the music world but not as Whitney Houston who even featured in the movie, "The Bodyguard" where she dazzled the lovers of action movies with her exhilarating musical tone and perfect pitch.
You would have heard her music and loved to sing like her and that is why we have drawn up some tips to guide you on your quest.
1.  Develop powerful vocal skills
You can simply do this by trying to transition your voice between vocal registers and this curtails aligning explicit resonances that will give you the most powerful and efficient sound.
You have to do this without yelling or rising into falsetto.
You can as well maintain a vibrator that is free and vibrant while singing with a feeling that might seem wild and candid but on the right pitch and perfect.
2. Develop Comprehensive Musical Skills
You should understand the degrees in minor scales, major scales, and blues solidly and when you have done this practice, you would notice the ability to switch between these scales instinctively as you immerse a bit of feeling into the music.
Try to stylishly alternate notes that have long holdings with ripping accompaniments and inculcate cadenced variation instinctively.
Another skill Whitney possesses is the ability to command an entire band and orchestras without even shooting a glance at them.
This skill is hard to come by but possible to achieve and if you desire to be like her, you could practice on it too and with time and steady practice, you will arrive there.
Related: Check out this article I wrote showing you how to sing like Lana Del Rey
[thrive_leads id='5517′]
3. Develop Performance Skills
Any environment that doesn't support your goals isn't suitable for your musical health.
So you should ensure that when performing, the environment is one that supports and encourages you to keep pushing forward.
You should as well have confidence in yourself and the courage to approach such tasks that could help you sound like Whitney whether onstage or offstage.
Be determined about what you are doing, have authenticity in practice and be clear about the fact that you have a musical goal to achieve and would persevere to achieve it even though it might be stressful or tiring along the way.
4. Develop Business Skills
When you have begun to grow in your career, find ways of relating to the big shots in the musical industry.
It is obvious that people help people become people and in all industries, some people have the abilities to help you soar higher in your dream especially when you possess the talent.
Invest also in songwriting when you grow big and ensure that the writers of your songs are top-notch because a popular songwriter could make a poor write-up but since he had done that for you, his essence has brightened your name and the world will know you as a client of his and a figure too.
Taking a cue from Whitney, you can as well delve into the film industry while building your music career.
Several people don't sit down to watch a musical performance but could spend hours on a movie whether action, adventure, or any other genre.
These people will love to see such performance incorporated in their movies.
I would give an example of myself.
After I watched Whitney Houston perform in The Bodyguard which was a total action movie with a bit of love, I got attracted to her music and this caused me to go find her other albums and listen to them.
Hence, you wouldn't regret it when you involve yourself in both industries and get known by both fans of music and films.
Still, ensure you do not let pride overwhelm you as such attitude pushes fans far from you.
Act in a good manner, radiate charm, poise, and be free with everyone you come across especially in a public gathering.
Related: Check out this article I wrote showing you how to sing like Mariah Carey
Conclusion
The truth is that you cannot sing as exact as a singer but at least, you could be above average in similarity.
However, singing like Whitney would be a good thing to achieve especially since people still crave her kind of music when heartbroken or in sorrows.
The tips above have been well explained and if you follow them comprehensively, I sit back to watch you become a star in the music industry and be the next Whitney of our current time.