This post contains references to products from one or more of our advertisers. We may receive compensation when you click on links to those products.
Looking to get an awesome USB microphone?
Then look no further because this article, M audio uber mic review will help you make a proper buying decision.
USB microphones are very common in the market now and most people are looking to get a few of them for their home studio.
But how do you know which one of them is actually good and worth buying?
So in this article, I will be reviewing the good, the bad and the downright ugly about this microphone.
What's in the box?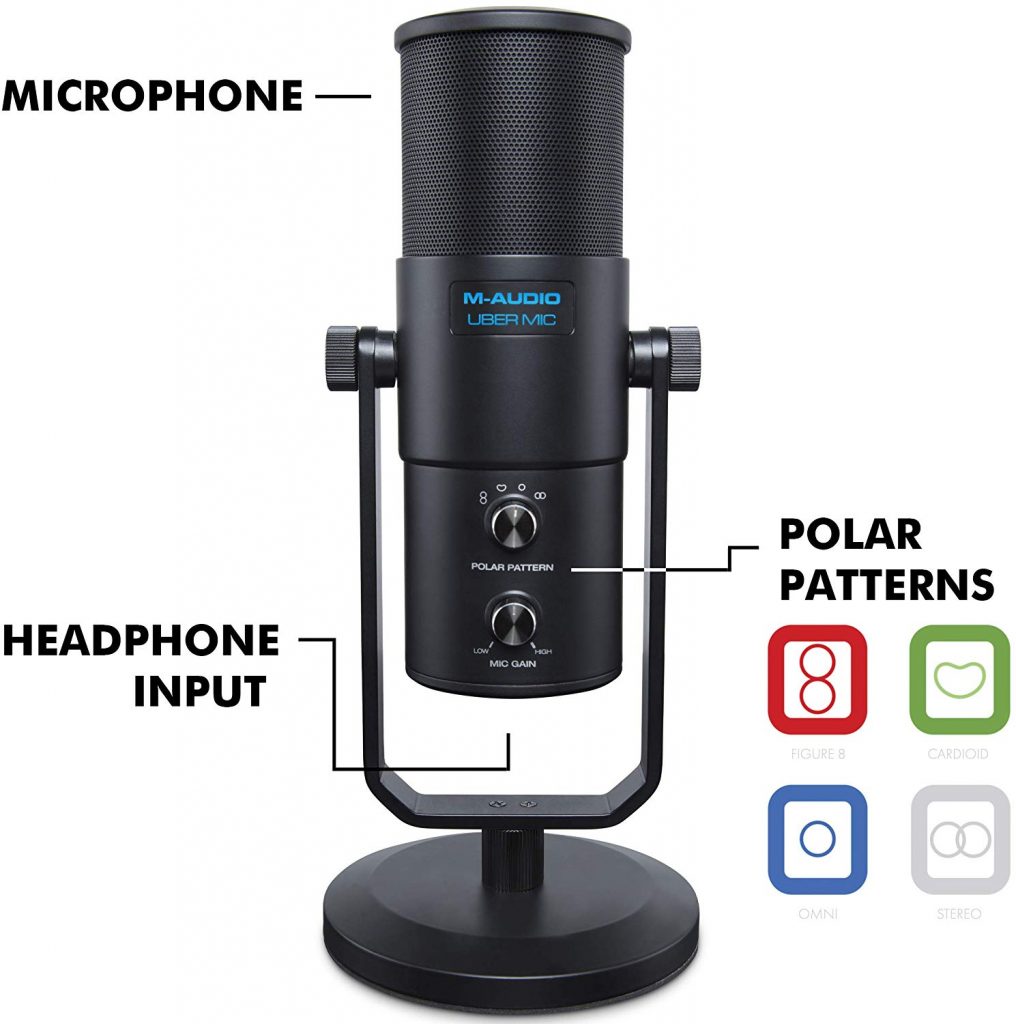 Obviously you will get the microphone in the box which comes with its own unique pre installed mounting system.
You also get a rather hefty desktop base mount for placing the mic on a solid frame like a table
You get a microphone stand adapter of considerable length for connecting the mic to the base mount
You get a USB cable and some documentation includes mic specifications and warranty
The Design
As far as the build quality, you will get zero complaints from me
The mounting system is a nice heavy metal which is also detachable
The body and the grille are also metal with a fine mesh grille
On the front, you will find an LED screen which helps to indicate the microphones gain, the headphones gain and what polar patterns you are using
Directly beneath that you have the headphone volume control button and beneath that you have a microphone mute button.
At the bottom, you have a mixing dial that helps to mix how much of the zero latency and how much of your computer's playback you want to hear.
On the back you find a polar pattern selector switch which helps you move between cardio-id, bi-directional, stereo and omni-directional.
And lastly at the bottom you will find the microphone gain control switch
Related: Click for the 5 best mic for screaming vocals
On the bottom of the microphone, you will find a USB port for easy connection
You will also find a headphone port (about 3mm) which does offer computer playback as well as zero latency monitoring
The Specifications
Microphone
Type: 3-capsule condenser USB microphone
Capsule Size: 16 mm
Polar Patterns: Figure 8, cardioid, omni, and stereo
Frequency Response: 30 Hz – 20 kHz
Sensitivity: -45 dB (0 dB = 1 V/Pa @ 1 kHz)
SNR: 110 dB
Maximum SPL: 120 dB (THD <1%, 1 kHz)
Headphone Output
Impedance: 10 Ω
Output Power: 30 mW (@ 48 Ω)
THD: 0.03%
Frequency Response: 20 Hz – 20 kHz
SNR: 110 dB
General
Connectors: (1) 1/8″" (3.5 mm) TRS/stereo headphone output, (1) mini-USB port, (1) 5/8″"-27 mounting point
Power: via mini-USB
Dimensions: 4.5" x 10.8" / 11.4 x 27.4 cm (diameter x height; with integrated stand)
Weight: 4.0 lb. / 1.8 kg (microphone & integrated stand), 1.5 lb. / 0.7 kg (microphone only), 2.1 lb. / 1.0 kg (integrated stand only)
Box Contents:
Uber Mic
Integrated Microphone Stand
Microphone Stand Extender
Mini-USB Cable
User Guide
Safety & Warranty Manual
The Performance
The M Audio Uber Microphone is a great sounding mic and a perfect sounding mic for all your needs.
If you are interested in recording instruments, vocals, podcast, broadcasts or even for your gaming experience then this mic is you best bet.
With a dedicated stand for ultra convenient table placement, the uber mic is versatile, full featured and sonically impressive.
The quality is good given the price. 
Vocal recordings with the cardioid pattern were clear and noise free. 
We then tried the microphone to record a piano. 
This time we had the stereo polar pattern selected to try and capture both low and high notes and the resulting spread was immersive, if lacking a little low-end.
Whatever your audio requirements, you can be sure that the Uber Mic will deliver exceptional audio quality
It has fusing pristine A/D converters that provide 16 bit resolution digital audio.
This ensures that your audio recordings will exhibit exceptional dynamic range that capture every nuance and subtlety of your performance
With its wide range frequency response of 30 – 20,000 Hz and sample rates of 48KHz, you can be sure of crisp, clear audio every single time
The following tests were carried out on this mic – the polar pattern test, the background noise test, distance test, Windows 10 test, gain noise test and the music test.
Please check out the YouTube video below to find out more 
https://www.youtube.com/watch?v=lm8NV7cTCqc
Pros
It does have a fairly decent build quality
It has multiple polar patterns which are fun and nice to play around with
It has awesome sounding preamps than most microphones out there.
It is very easy and intuitive to use for any application
Cons
It sounds like it has a high pass filter on it which rolls off the bass and ultimately makes it sound thin
The provided desktop base mount causes vibrations when being used because of the absence of a shock mount
Overall thoughts
Uber Mic is well built and comes with an impressive stand and it sits very solidly on your desktop with flexible movement. 
If you are on a limited budget and need a mic for a variety of tasks then it's a solid choice and handles decently in a variety of situations, although it does face tough competition from Blue's mic range that we looked at last year.