In the history of contemporary music, Frank Ocean falls under one of the most enthralling figures ever since his arrival in 2010.
He's both a songwriter and singer, with several songs in various genres ranging from romance to R&B.
Novocane was one of his solos which shot him up and was done in 2011.
It was very popular that you could hear it all around you in homes as it topped the urban playlists.
He experienced some edgy relationships with some music industry scheming but despite that, his first good album Channel Orange done in 2012, caused him to bag a Grammy award and almost topped the Billboard 200.
He earlier lived in Long Beach, California with his family, and was born with the name, Christopher Edwin Breaux.
From there, they moved to New Orleans, Louisiana when he was five, and when he got up to college level, he couldn't go again because the city of New Orleans he was to study at was hit by Hurricane Katrina.
This made Ocean abandon academics and pursue music in Los Angeles.
He made demos at a studio owned by his friend, traded them in the neighborhood and finally, got a deal which made him write songs for Brandy, John Legend, and Justin Bieber eventually.
Odd Future was the talk of the town in February 2011and this was when Ocean employed his Tumblr blog to release the Ultra mixtape, Nostalgia.
From there, he progressed in making his official album and produced alongside other producers like Pharrell Williams, Om'Mas Keith, and Malay.
However, if you have ever listened to his songs and hope to be like him one day or you have a yearning for music like him, you can try these tricks below to shape your voice to be your best.
Here is an article I wrote showing you how to become a better singer
[thrive_leads id='5517′]
Tricks to Make You Sound Like Frank Ocean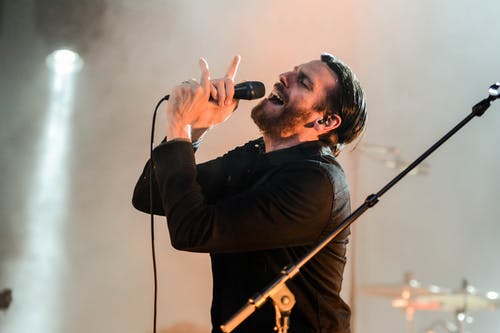 Lo-fi Auto-Tune
Several fans and singers see Auto-Tune as a dirty option though it is interesting when employed for tuning effects.
Some artists who took over the world, e.g. T- Pain made his debut with Auto-tune while some singers have refused using it saying it gives a negative undertone.
However, Frank Ocean is incredibly gifted, has won the Grammy, and made a greatly sought album in 2015.
One of his music tracks, "There Will Be Tears," starts with Auto-Tune and ends with a lo-fi style.
To do this, include an Auto-Tune plugin to your vocal stem and then slash the high end out of the vocal when it is at 6 kHz.
Finally, include some subtle reverb and delay.
Musical theme
Ocean's music includes both poetic and musical themes that aid in creating a distinctive sound in all his works.
This is the main part that bonds this work together relating to youth and love.
He makes familiar patterns in his works by using different harmonic and melodic musical rudiments.
There is a simple harmonic structure recurring in all his works and this aids in supplying a clear-cut adjunct that lets the vocal line to come into the limelight.
These harmonic structures move principally in a stepwise, dominant, or median motion, and include about four chords in the sequence.
This sequence is found in "Solo", "Nikes," "Ivy," "Novacane", "Chanel," and "Pink + White".
Here is an article I wrote showing you how to breathe the right way while singing
[thrive_leads id='5517′]
Ostinatos and rhythmic substance
You will find ostinatos and rhythmic substances in every one of Ocean's music and you can find these themes normally inside multiple instruments.
When layered over each other, they make a superb sound.
Ostinatos are straightforward melodic lines that aid listeners to center on the poetry and message of the work just like in "Thinkin Bout You":
Drum and bass loop.
Drum and bass loop are possibly one of the most regular themes in Ocean's work.
The majority of his works have these loops in a plain quadruple meter and include related musical elements.
They are created with simple musical qualities to retain a cleaner sound.
Frank Ocean Vocal Range: Lead vocal line and simple accompaniment
The lead vocal lines and simple accompaniment are similar in all Ocean's pieces thereby assisting to establish a theme inside his music.
He employs arpeggiated or chordal accompaniment to stress the vocal line.
You will find chordal accompaniment in "Nights," "Novacane," "Thinkin Bout You," and "Solo" and arpeggiated accompaniment in "Nikes," "Chanel," and "Pink + White".
Frank Ocean Vocal Effects: Echo-effects
With the use of echo-effects, Ocean induces a reverberation on his vocals thence, generating a theatrical sound.
During production, he distorts his voice; forming an older and younger sound and capturing various periods of his life. "Ivy" (pitched up one semitone), "Nikes" (pitched up five semitones), and "Nights" (pitched up two semitones) are examples of works where he employed distorted vocals.
Read this article I wrote showing you how to sing like Freddie mercury
Storytelling
Just like in the echo-effects, you would notice the different voice variations which talk of childhood and adulthood.
In the first half of the album, he makes several references to the summer period and this tells a lot about the season.
Conclusion
The blend of Ocean's obscured personality, relevant and compelling music, and his chancy business activities, made the ideal technique for his music to be on the Billboard Hot 100.
The musical essentials incorporated all through Ocean's music, like poetic, melodic, and harmonic organization, are the central part of the poignant connection that numerous individuals come across when hearing his music.
The private kind of lifestyle Ocean leads lets a complete range of understanding of his music.
This choice as an artist shows the respect he gives music, to not sidetrack from his art.
The musical rudiments in all his evaluated tracks fashioned a distinctive sound for Ocean as an artist and participated in popularity and relevance the songs carried.
Ocean employed an uncommon kind of marketing approach and this enticed numerous fans and assisted in setting his music among the top 100 of the Billboard.
Even though Frank Ocean's music is extensively recognized, no one sees him as a mainstream artist.
He expresses how he has remained loyal to his art and himself all though his career by not succumbing to the pressure he got from social norms, his fans, and labels.
And you should do the same too if you wish to grow like him.
[thrive_leads id='5517′]