This post contains references to products from one or more of our advertisers. We may receive compensation when you click on links to those products.
If you have anything to do with audio recording, then you definitely know the importance of having a good microphone – especially a condenser mic.
Good microphones have been described to be as brushes an artist uses to apply colors to a canvas or even a magic wand a wizard uses to conjure magic tricks
You get what I mean right?
And if you ask me, I kinda agree
A good microphone will save you from the terrible stress of trying to mix a crappy vocal
And you want a good microphone that is sensitive enough to tell you where the hotspots are and also accurate enough to capture them
In this article, I will be reviewing MXL 990 condenser microphone, showing you the pros and the cons and everything you need to look out for when making a purchase
What's in the box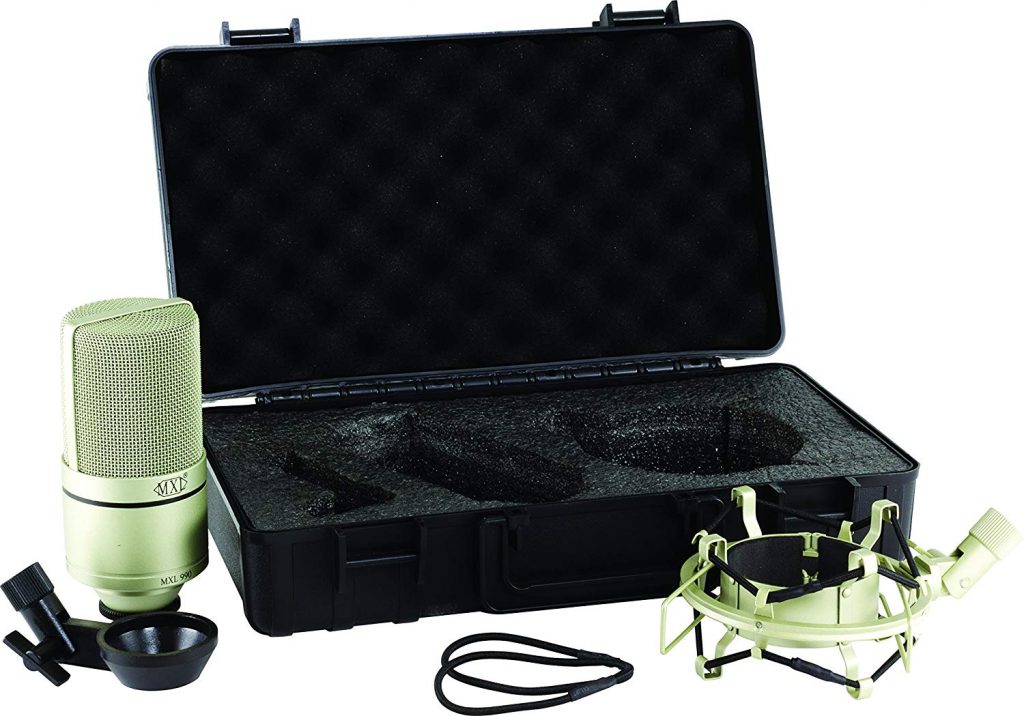 When you purchase the MXL 990 microphone (which you can get from Amazon at the lowest price), here are the things it comes with
It comes in a simple carton box with a storage box
Obviously it contains the microphone
A cheap, small microphone mount which does not come with a microphone stand adaptor so you might need to get one
A  bunch of manuals and documentation and also with a 1 year warranty
The design
At first glance, this microphone has a nice build and construction quality
It has an all metal construction, a nice metal grille and some weight to it
It also feels like it is actually sturdy and very solid and stable
Its electronics has an FET preamp and transformerless design that according to MXL is loosely based on the circuitry found in the early British recording consoles
The advantages of this design are lower self-noise and expanded dynamic range.
The 990s have a smaller housing than your typical large-diaphragm condenser and based on look and feel alone, I would not be embarrassed to put this mic up in front of a high-profile client.
The Specifications
Tube Type: Pressure gradient condenser microphone
Diaphragm: 6 micron gold-sputtered
Frequency Response: 30 Hz – 20 kHz
Polar Pattern: Cardioid
Sensitivity: 15mV/Pa
Impedance: 200 ohms
Equivalent Noise Level: 20 dB (A-weighted IEC 268-4)
Signal to Noise Ratio: 80 dB (Ref. 1Pa A-weighted)
Max SPL for .5% THD: 130 dB
Power Requirements: Phantom Power 48V (+- 4V)
Current Consumption: Less than 3.0mA
Size: 60mm x 130mm / 2.36 in. x 5.11 in.
Weight: 1.2 pounds (544.3 grams)
Metal Finish: Champagne, Midnight, or White (Blizzard Edition)
The performance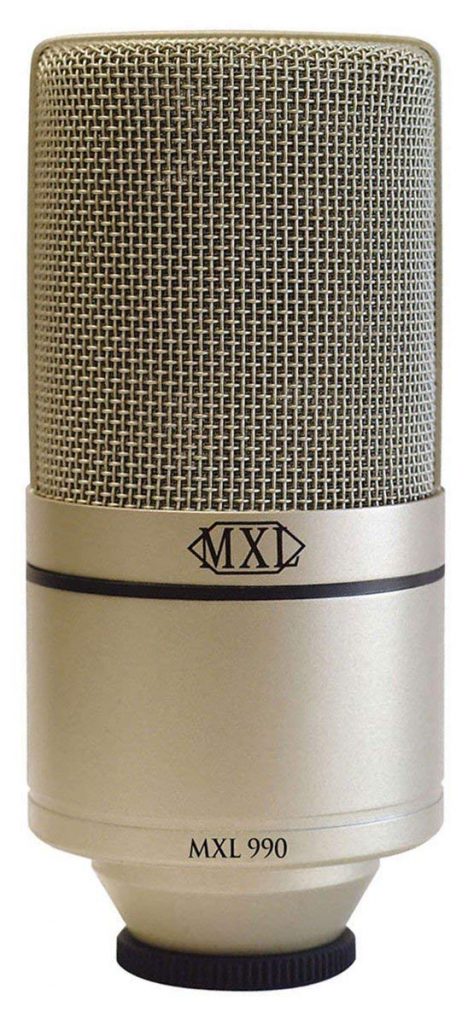 One thing I noticed about this microphone is that it is very quiet.
It is smooth with a bit of an edge and it's got enough in the mid to give you plenty to work with while mixing.
A very good balance and a decent amount of sensitivity.
The MXL 990 is well suited for vocals and is all about that mid-range warmth, with a full and rich tone – it makes you sound better without coloring your voice too much.
Recording acoustic instruments is just as easy and yields great results, even though it has a slightly lower max SPL.
For this reason, it's not ideal for recording amps and drums, although not impossible.
Thankfully, ambient noise is a non-issue, while the noise made by the microphone itself is very low too.
Installing that shock mount and adding a decent pop filter makes this microphone a very capable addition to any studio.
The following tests were done on it which you can see on the video below and it still kicked ass.
Related: 10 Best Condenser Microphones
Polar pattern test, background noise test, proximity/distance test, plosive test and music test.
Pros
It sounds really nice and crisp on vocals
It also sound nice and clean on recording instruments such as the acoustic guitar
It does an awesome job of eliminating background noises and effects such as keyboard sounds
Cons
When testing with the electric guitar, it sounded a little flat and lacked that "oomph" factor
It comes with a crappy shock mount that got broken almost immediately.
Overall thoughts
I am always adding microphones to my collections.
And when I see a cheap microphone, which is basically all general purpose, then I will get that mic
Which is what the MXL 990 Condenser Microphone is for me
Between it's very low price and the awesome sound quality, it's plain silly not to have one. (Click here for the latest prices on Amazon)
The MXL 990 makes for an excellent addition to your mic cabinet
And, if you'd like to add the depth and dimension to your recording that only stereo miking can offer, the XY-pattern 990 Stereo makes it easy in terms of both setup and affordability.
Frequently Asked Questions
1.Does the MXL 990 need phantom power?
Yes the MXL 990 requires phantom power.
It being a condenser microphone requires 48 volts +/- 4 volts of phantom power to operate correctly.
the easiest way to start using a phantom power is to get an audio interface (like this one here) that comes built in with 4V phantom power.
2. Can I connect the Mic to my Mac?
You cannot connect it directly to your Mac book.
You will need an audio interface which has phantom power to be able to connect the MXL 990 directly to your Mac book.
Here is an article I wrote showing you how to connect your mic to your laptop.
3. Does this mic have static?
Not at all
From the numerous tests carried out on this mic, it is very quiet and eliminates background noise easily