With all the excitement of getting your new Condenser microphone, the next thing you need to figure out is how do you connect your condenser mic to your computer?
Right?
I mean, its only normal that you learn how to connect it properly and start using it
The music industry has become a huge part of the entertainment industry and jumping into it is not as hard as it used to be
These days, anyone with a microphone and some studio gear in his bedroom can product a hit song that takes the world by surprise
One of the most common equipment you need to get is a microphone
Getting a good microphone is essential whether you are interested in studio recording, video recording, home recording or any other source of entertainment
Basically there are two main types of microphones in the market today
We have the Dynamic microphone and the condenser microphone
Both of them have their individual pros and cons, but in this article we will be focusing more on the condenser mic
The condenser mic is seen as a better product and choice especially if you are interested in getting clean and clear recordings
Also it also makes you sound professional with an air of superiority over the dynamic mic
The condenser mic is also a bit more complex than the dynamic mic which is why it is almost double the price of the
Whatever mic you get, you need to know how to connect it properly to your computer and get it to work
Related: check out this guide on the best microphones
How to connect a basic microphone to a laptop
Before I show you how to connect a condenser microphone to you laptop, it is only fair I show you how to do a basic mic connection
First you want to make sure your computer has a microphone jack
If it has then you need to confirm that it is either a USB or a 1/8" jack input that is the same thing as a regular headphone jack.
Next you go ahead and simply plug in the headphone jack and change the settings to suit your style
Then you can get a program such as sound recorder and make sure it works properly
Here is a YouTube video showing you it's done
If you invested in a higher quality mic, the process is basically the same
Make sure you search for an XLR jack and buy an adequate converter which will ensure you get the best sound quality and signal
Related: 10 Best Condenser Microphones
How to connect a condenser Mic to a laptop
Like I said earlier, a condenser mic is much more complicated and takes some time to figure it out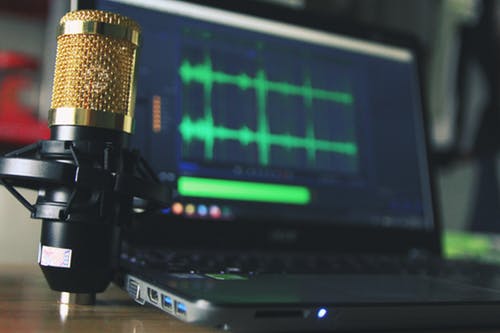 But not to worry, cos I am here to guide you along
The first step you want to do is to make sure that you have an adequate mixer.
While not all laptops will require this, it is highly advisable as it ensures you have high sound quality and it also delivers phantom power which powers your condenser mic
Do not be intimidated about buying a mixer as there are very cheap ones out there that are completely affordable
Here is one I saw from Amazon.com that is very cheap and has a lot of positive reviews
Also you want to make sure that you get a sound card that supports a 1/4 inch jack..
This will make your work so much easier and give you awesome sound quality
Once you have that, connect your condenser mic to the mixer and the mixer to the sound card
Lastly make sure you have a good recording software or DAW and have some fun with your new gear
I would recommend that you get Cakewalk of Audacity as these are the tested and proven recording softwares in the market today
Both of these aren't expensive and provide a number of different recording options that may be of huge benefit.
Here is a YouTube Video explaining this with visual representation
Why you need a condenser mic
There are a number of reasons why you need to invest in a condenser mic.
Especially if you are interested in a professional recording or performing career
Here are some of the reasons below
A condenser microphone is able to obtain extended frequency ranges, as well as keep flat frequency responses which is a huge advantage if you are engaged in long recording sessions.
It is quite small, portable and does not take up a lot of space
It will last for a very long time with the right maintenance and it is a long investment option