If you are looking for a reliable and easy to use DAW for your home studio, then you really want to check out Magix Music Maker
This very small and powerful DAW allows you to create songs from the scratch without the needs for all the other bells and whistles most DAWs have.
With this program, gone are the days where you need to shell out huge amounts of money in setting up your home studio.
Technology has made it so much easier that you can easily create, mix and master a song from scratch all in the comfort of your bedroom using Magix Music Maker
In this article I will be giving you an honest review of this program and how you can get it.
What is Magix Music Maker?
Magix Music Maker is a commercial music maker and editor made by the well known brand Magic.
It was first published in 1994 and with more than a million copies sold worldwide, it is slowly establishing itself as a well known DAW for music production
It is renowned for being very user friendly, easy to use and ideal for beginners who want to try their hands out on music production and need something for their home studio
Magix Music Maker Review
Magix Music Maker is a very complete program for all those who are starting in the world of musical creation. Several important aspects you should know about this software: 
Free loops: It has a library of 425 free sounds and loops. Each of these sounds and loops can be modified by the user, either by adding an effect, turning up or down the volume, in short, everything you can do with sounds in a beat editor. 
Integrated Store: Music Maker comes with an integrated store where you can purchase new sounds as well as expand the effects library. Depending on which version you have, you'll have more things to buy. 
Virtual Instruments: With a gallery of 24 virtual instruments available, you can choose the amount corresponding to the plan you choose. With these instruments, you expand the catalog of available sounds, as you can combine and play the instruments as you wish. If you wish to purchase more instruments than the quantity available in the different plans, you can purchase them in the integrated store that comes with Music Maker. 
Drag and drop: You can drag and drop effects, loops, instrument sounds, whatever. This simplified way of working makes your learning curve not difficult to master, in a short time you will be making more and better music. 
Live instruments: you can include the melodies from real instruments you have and know how to play, increasing by yourself the amount of sounds available in the software. You can add and record your voice to use as part of the song.
My Opinion About Magix Music Maker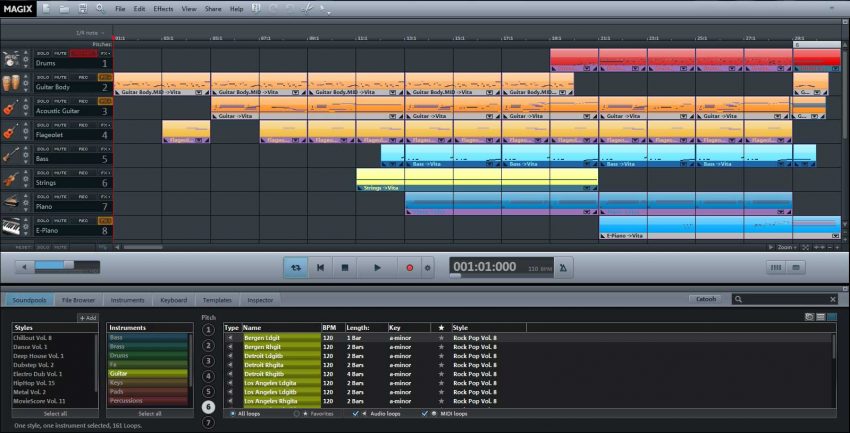 For someone like me who has been making music for a very long time using different DAWs, when I came across magix I was hesitant at first.
However as someone who is always open to experimenting and trying out new stuff, I decided to give it a go and see what it was all about.
The first that struck me as awesome was the fact that the dashboard was very simple and easy to navigate.
This was very important for me because one thing most people complain about the other DAWs out there is that it is not beginner friendly.
So this makes it very easy for someone to easily come in and start creating good music from scratch
It also comes with a well organized line up of virtual instruments so you can hit the ground running even as a complete beginner.
It also comes with a large library of loops. This made it very easy for me to create beats and music using the drag and drop feature provided in the arrangement.
Using just the editing tools and the my keyboard and mouse, I was able to create and come up with a song in less time that It would have taken me using other DAWs.
I found that I could easily record as well as import audio files that I could integrate into my own compositions. 
Even when the external files were in video mode, I could open another video monitor that could even be played in full screen. 
Whenever I hit a roadblock and I couldn't compose songs on my own, I found that I could rely on the song generator that effectively created song ideas which I could use as my own.
I was also very pleased to find a wide range of effects with Magix Music Maker. This includes echo, reverb, chorus and compressor effects each with a selection of presets that I could easily adjust and make improvements while I worked.
Another awesome thing is the editing tool. This feature was pure magic.
It was quite useful when it comes to eliminating undesirable aspects of your sound such as hissing sounds and background noises. Most notable among them being a processor, effects previewer, master limiter and a channel mixer.
One awesome thing about the Magix Music Maker is the Mastering section that comes in built with it.
With an auto mastering section that allows you to select a mastering preset based on a distinct genre so that the DAW can automatically work and do its thing while giving you clean clear sound is awesome.
Things I Liked
Affordable and very easy to use and learn
It is perfect for beginners and people who want to test the waters of production before buying something more expensive
It has a cool drag and drop functionality
It is very compatible with major MIDI controllers and keyboards
It comes bundled with lots of amazing loops and beats that you can easily choose from
You can easily export your songs to broadcast quality WAV/MP3 files
It comes with expandable sounds/effects/loop packs
Amazing free version allows you to test it before buying the premium version.
Things I Dislike
It comes with an in App store which gives you the option for additional purchases
It is not as flexible for advanced producers who require total control of their DAW
You can only get all the functionality when you purchase the premium version
It only runs on WIndows OS
It requires a lot of repetition to achieve tasks when using this DAW
Who is Magix Music Maker Best Suited for?
The Magix Music Maker DAW is broken down into the following component
Music Maker
Music Maker Plus
Music Maker Live
Music Maker Premium
Before you get started with this program, it is ideal we mention those who are ideally suited to use this
You are a beginner and want to start making music but do not know where to start
You want to get a professional beat making DAW but do not want to spend thousands of dollars on it
You want to produce popular genre of music and need something that can do this easily
You want a super fast workflow DAW without having to mess around with complex controls and knobs