The Electro Voice Re20 Microphone is probably one of the greatest vocal microphones in the market today.
As such, it proves to be one of the most popular dynamic microphones you can find for under $500 today.
This particular microphone has a lot of advantages which makes it ideal for recording metal, for use as a podcasting microphone and for voice over jobs.
In this article, Electro Voice re20 Review, I will be going over in detail everything that makes this microphone awesome, how it sounds when used and the cheapest places online where you can easily get this product without any hassles.
What's in the box?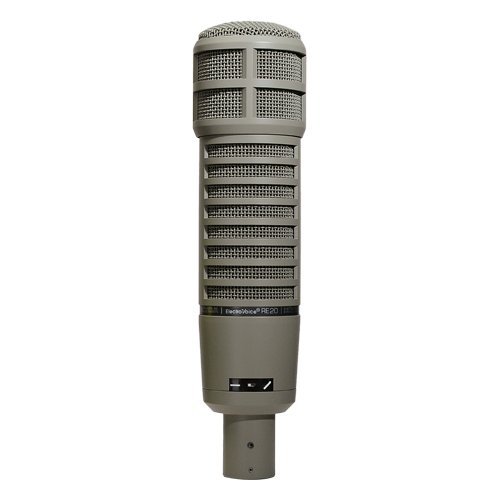 First off everything comes in a really nice and comfy black pouch which helps protect the microphone from wear and scratches
The microphone obviously is also there
It comes with a pre-installed microphone shock mount which does have a 5'8 to 3'8 inches microphone stand adaptor and documents and manuals which contain the mic specifications and features.
The Design
The build quality of this microphone is awesome
It has a simple but distinctive design just like all other models of the Electro Voice microphones
It has a heavy duty die-cast steel chassis with a tasteful champagne finish which makes it unique and very attractive
It has an all steel body and very sturdy which helps reduce vibrations and all forms of background noises
As you look at the side of the microphone, you will find a bunch of vents and small openings which help with Electro Voice's unique variable detail technology which essentially just helps decrease the amount of proximity effect that you get when using this microphone.
Related: 5 Best Mics for Screaming Vocals
Although the RE20 was obviously made with function in mind, it still feels pretty stylish. Of course, being an industry-standard mic – and considering the price tag – the build quality is excellent.
It's robust and heavy enough (1.6lb) to inspire confidence in any studio.
The Features
At the core the RE20 microphone is a moving coil capsule with a large diaphragm humbucking coil and an internal mounted shock system
This all help in ensuring that this microphone delivers awesome sound quality and reduces any background noise
It has a fixed cardioid pattern with no correlation at 180 degrees at its off axis
It has an internal pop filter and it famed Variable D technology which helps reduce breath issues and minimizes the dreaded proximity effect
It has a bass roll off and a high pass filter which is located at the bottom of the mic
As for accessories, you'll find a mic stand clip and a basic softshell case in which to store the mic. 
The combination of all this, along with the listed frequency response of 45Hz to 18kHz, points towards why broadcasting studios love this microphone so much.
The performance
With the awesome build, design and features of this microphone, you can be sure that this mic is geared towards delivery awesome vocal quality
Its internal pop filter and the Variable D technology ensures that you can really get up close without worry about any breath issues
Its humbucking coil also helps keep any mechanical or background noise quiet
As it accommodates so well for a wider lower end, this microphone is an excellent choice for people with a natural deep voice
While it gives vocals a warm and pure character, the RE20 works very well instruments too – bass drums and acoustic guitars in particular – delivering a clear recording with great side and back noise rejection.
The following tests were conducted on this microphone as you can see in the video below – Tone switch audio tests, polar pattern tests, off axis test, background noise test, distance test (including proximity test) and music test
Pros
It sounds great for recording vocals and voice
It does a great job minimizing background noises
It has a much more neutral frequency response when compared to other microphones
It has a high pass filter for on the fly adjustment
It is built with quality materials and finishing making it very strong and durable 
Cons
It is insanely expensive
The extended frequency response makes it very susceptible to sibilance and harsh frequencies
It has a very low sensitivity so you want to make sure you get up close when using this microphone
Conclusion
This is one microphone that is awesome for recording vocals and ideal for podcasting
To my ears it sounds great and it looks like an ideal replacement for my Shure SM58 microphone.
With a solid build, exceptional sound quality, noise reduction features, and a pinch of that Electro-Voice magic, in a studio setting it is a formidable tool that will allow you plenty of freedom.