This post contains references to products from one or more of our advertisers. We may receive compensation when you click on links to those products.
If you have been on the fence about getting the AKG P420 condenser microphone, then this detailed review will definitely help you make up your mind.
The AKG 420 microphone, part of the perception series of condenser microphones is an awesome piece of work when it comes to microphones for recording vocals.
In this article, we will be looking at everything from the design, the features, the performance and how you can easily pick up this bad boy.
What is in the box
When you purchase this condenser mic (you can get it here at the lowest price from Amazon), here are the things you see
The microphone comes in a rather hard shell storage box that is very strong and does not break even when thrown around. This makes it very easy to store and pack.
Inside the box is the AKG 420 microphone (obviously)
A shock mount which comes with a 5.8 inches to 3.8 inches standard microphone adaptor
Some extra shock mount bands for easy replacement when the original is worn out
Unfortunately, there is no documentation manual which is rather surprising.
The Design:
At first glance the AKG 420 condenser mic looks like any other microphone out there.
But the distinguishing factor about this mic is the attractive and ergonomic design.
Its champagne finished grille takes up about half the length of the mic and is divided into three segments.
It does have an all metal body as well as a metal mesh grille without much gift to it which is nice
It also has a little weight to it making it a bit heavy
Right on the front of the microphone is a polar pattern selection switch which helps you switch between cardio omni and bi-directional
While on the back is a high pass filter which helps roll off frequencies around 300Hz at 12 decibels per octave
And it also has a -20 decibels pad
The Specifications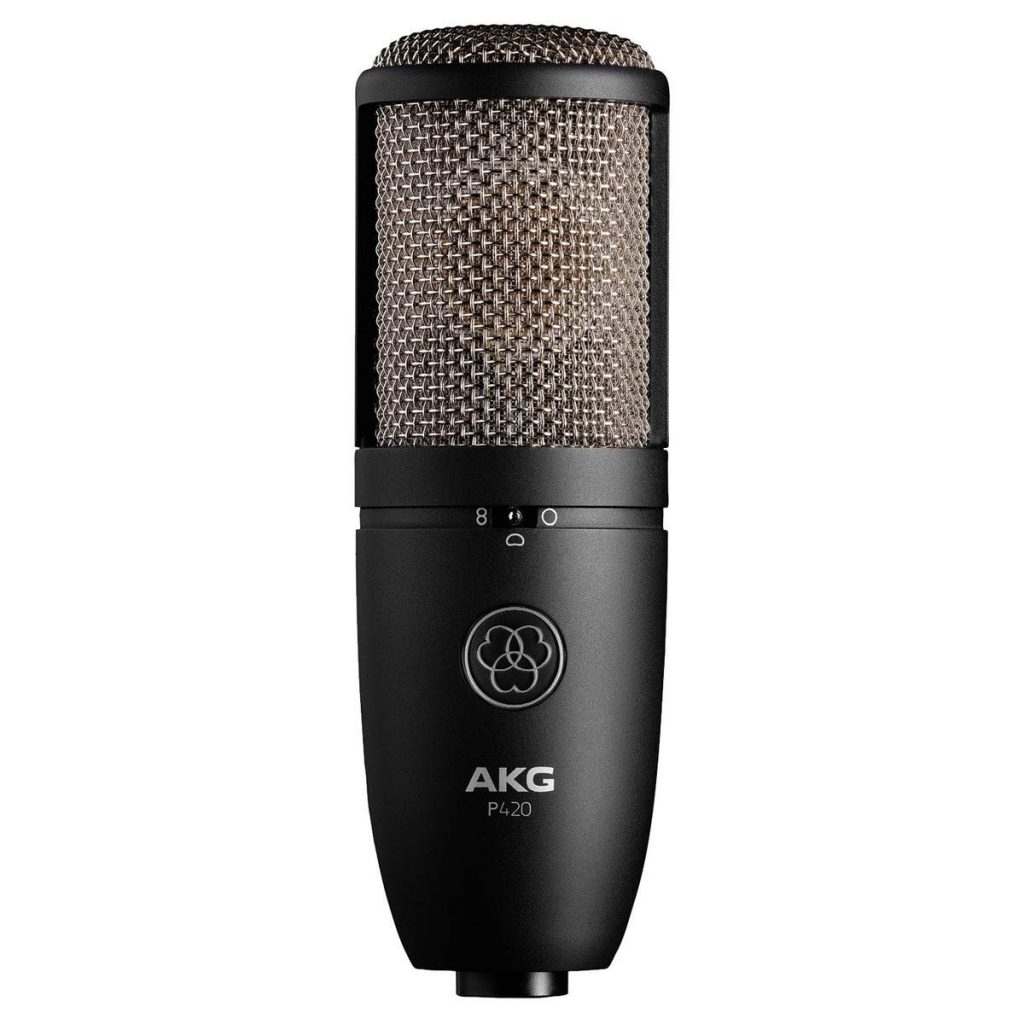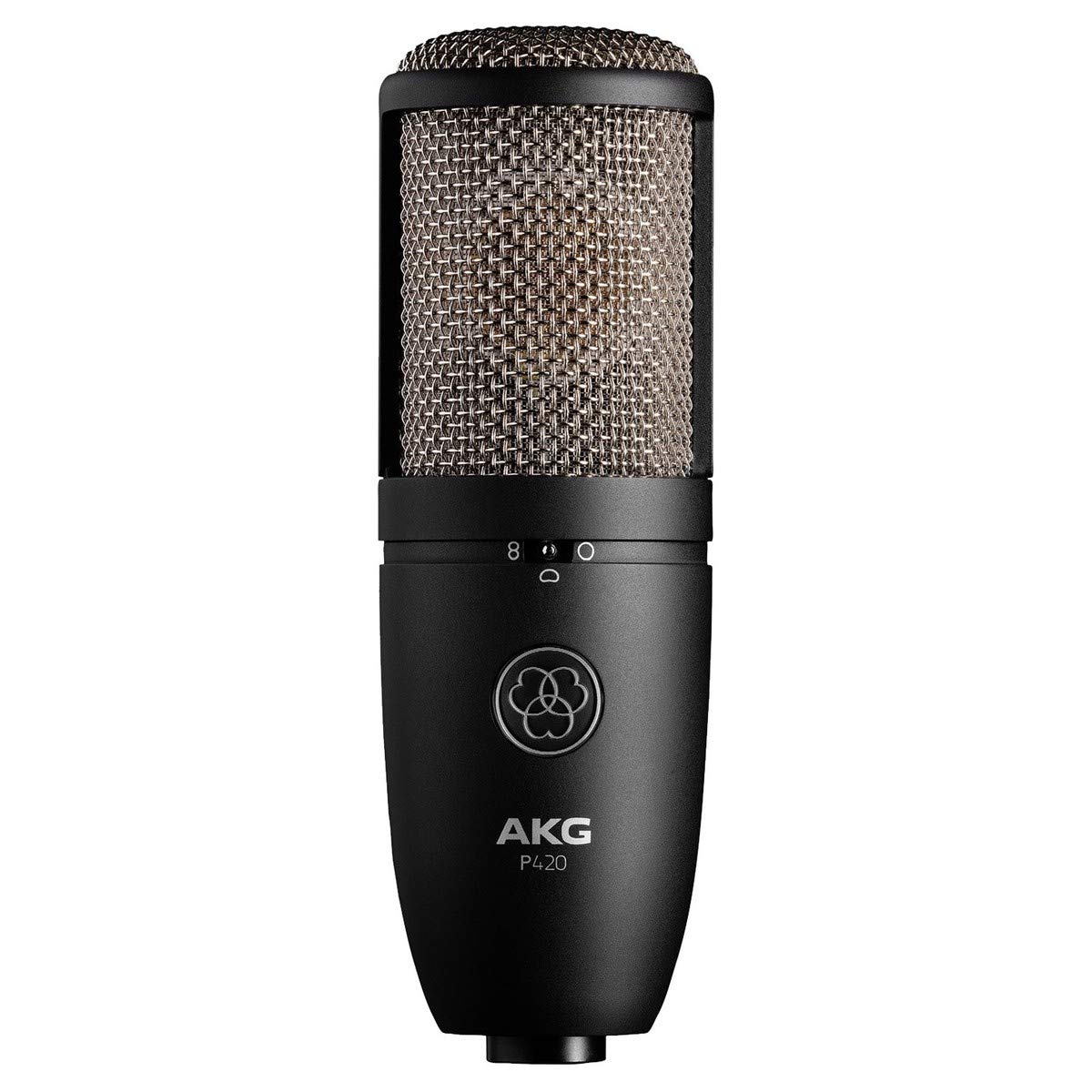 Audio frequency bandwidth of 20 to 20000Hz
Sensitivity of 28mV/Pa
Equivalent noise level of 15 dB-A
Signal to noise ratio of 79 dB-A
Preattenuation pad -20 dB
Bass cut filter 300Hz -12 dB/ octave Hz
Electrical impedance <= 200 Ohms
Recommended load impedance >= 1000 Ohms
Voltage 44 to 52 V current <= 3 mA
Type balanced XLR gender male contacts 3 pin
It has a length of 165mm, diameter of 54mm and a net weight of 530g
Related: 10 Best Condenser Microphones
The features
One of the major features of the AKG 420 condenser microphone is the dual diaphragm design with its 1 inch diaphragm.
What this means is that aside from improved detail and clarity, this also means you get more than one polar pattern.
You get a choice of three in total – the standard cardioid, the omnidirectional and the figure eight patterns.
This is where most other condenser microphones in the market fall short.
The performance
If you are looking for an all purpose, general microphone, then the AKG 420 Microphone is your best bet.
This is simply because this microphone can be used for just about any application and it will still sound good.
The following tests were done on it which you can see on the video below and it still kicked ass.
Polar pattern test, background noise test, proximity/distance test, plosive test and music test.
It records vocals very well delivering clean, warm sounds and recording instruments with it is a breeze.
Also because of the unique attenuation pad, you can also use it to record "difficult" instruments such as brass without any issues.
The P420 comes with plenty of axial variation so you'll most likely want to spend some time positioning it just right to get your desired results as sometimes even small rotations or changes in angle in a reflective environment resulted in dramatic tonal differences.
The upside to this is that the P420 is capable of a multitude of sound variations, perfect for the experimental-minded out there.
Pros
It does not colour the audio that much giving you clean, clear and crisp vocals
It has a nice build, quality and good shock mount
It comes with a durable and awesome storage box
Cons
The 15 dB-A noise level on this product is not ideal if you want to use it for professional applications
The bi-directional and omnidirectional patterns have a significantly quieter sensitivity
Overall thoughts
You must have guessed it by now.
The AKG 420 is a winner by all means
While testing it on the electric guitar, it sounded a little bit loose in the lower frequencies.
But for the acoustic guitar it absolutely killed it and sounded really great with a really nice top end and a really nice low end
As for singing, it had a good amount of clarity to it with a really flat mid section which I am personally a huge fan of
For spoken word, it has a bright tone focusing on the  more breathy and airy frequencies but it does have a more subtle change from the flat midsection to the more other frequencies.
So would I recommend this microphone?
ABSOLUTELY (here is a link to buy it on Amazon.com)
For singing and music, it is highly recommended as it gives crisp, clear vocals
Its fun to have the extra polar patterns to play around with especially if you are doing duets and recording large audiences
Frequently Asked Questions
1. What is the difference between the AKG 420 and the AKG 220 condenser microphone?
The 420 is a dual diaphragm microphone with 3 selectable polar patterns while the 220 is a single large diaphragm microphone
What this means is that the 420 is more versatile and can be used on vocals, instruments, cabinets and also as a room microphone
The AKG 420 microphone is also more sensitive.
2. Can you hang this mic upside down? And what other hardware do I need?
Yes it can be used upside down using the included shock mount.
I wrote an article on the benefits of placing your mic upside down which you can read here.
3. Is this good for voice acting?
Yes it is very good for voice acting as it has a smooth response which reduces feedback
4. I want to use this mic for recording vocals. What do I need to hook it up to my Mac book to record vocals
Simply you need any of the available USB audio interfaces (like this very cheap and affordable one on Amazon.com)
Plan to spend around 100 bucks to get something really good that works for a very long time