Ever wondered if in wall speakers are any good?
Are in wall speakers right for you?
Well the simple answer is that it depends on a couple of factors
While in Wall speakers are an awesome sounding speaker and have everything you need to enjoy nice audio in your home, the disadvantage is that you need to cut holes in your walls and ceilings and most times this requires the services of an expert.
In this article, I will be talking more about in wall speakers, if they sound good and what to do to ensure that yours sound really well when used.
Can In Wall Speakers Sound Good?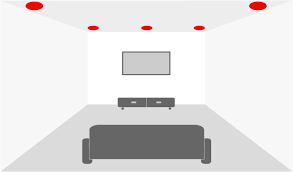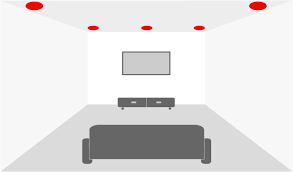 In wall and in ceiling speakers used interchangeably mean the same thing and they refer to speakers that are mounted in the walls or ceilings of your house.
They are usually used in Cinemas and film houses where they are used as stereo sound and surround speakers.
So let's get the issue of sound quality out of the way
I know I have always wondered how many of the audiophiles who talk bad about in wall speakers have actually sat down and listened to any.
From numerous testings and research done by myself and others on the internet, the sound quality was excellent
If you successfully install them right and you also choose a quality speaker, then the only thing you might notice is that the sound is not as spacious as you like.
Apart from that everything else is top notch with superior quality.
Here is an article I wrote showing you the best speakers for apartments.
Another thing is that for in ceiling speakers, because they are placed above your head the sound may come from above. And most times this might sound unnatural
Benefits of In Wall Speakers
No cables and annoying wires littering your apartment. The wiring for in wall speakers is completely hidden from view and they can also be painted to match your decor. This helps keep the aesthetics of your apartment nice and classy.

It makes use of limited space. These days where space is limited, In wall speakers are usually mounted in the walls of your apartment. This means that you do not have to find space for them making them the perfect choice for small or crowded areas. Here is an article I wrote showing you the best speakers for bedroom.

The wall cavity usually acts as a speaker cabinet which helps increase the base response.

It offers great sound distribution and with its strategic positioning you can easily disperse sound in your entire room. It also comes with features such as swiveling tweeters which enables you focus the high frequencies in any direction you want.

They are resilient and very durable and last for a very long time when used properly
Disadvantages of In Wall Speaker
They say every good thing has a disadvantage right… well here are some for your in wall speakers
It is much harder to upgrade later. Now this is kinda of hard but the truth is that once you have cut a hole in your wall or ceiling, you are hardly thinking about an upgrade. A new wall speaker will definitely require a new hole and work being done.

Harder to relocate. Same thing with upgrading, it is much harder to relocate an old wall speakers to a new place. As this will require new paint work and Sheetrock. So it is advisable to ensure that you pick the right location initially and also calibrate the distance before reaching for your saw.

It is farther away from the listener than most speakers. Because most speakers are usually placed in the walls, it will be anywhere from one foot to six feet farther away from your listening position. Doing this, the speaker wont be perceived at the listening position as loud and also there will be a lot of reflected sounds. One thing you can do to fix this issue though is to use acoustic treatments in the room.

It cannot be Toe-d in. This simply means angling the speakers inward to help improve the sound and audio quality. Very few in wall speakers allow this function to be carried out. This means that most times the speakers will not be perceived as being loud and you might not get a good frequency response. One way to fix this is by installing your in wall speaker a bit closer to each other.
In Wall Speaker Placement
Installing your in wall speakers is relatively easy and tricky but it is advisable that you seek the services of recommended experts to give it a professional touch.
One of the most important things you need to consider before you even make a purchase is where you are going to install it.
How they are placed usually depends on the architectural design of your apartment and this also determines how they are going to sound.
Also your budget and the allocation will be guided by performance goals and listening experience expected in each room.
In Wall Speaker Buyers Guide
Before you buy any speakers for your apartment, there are a few things you need to be aware of.
1. Your Budget
This is perhaps the most important factor to consider before you buy a speaker.
Your budget will determine if you are going to get something that will last for a very long time or something you put up with temporarily.
2. Your room requirements
This also has to do with the size and shape of your apartment. For surround sound home theater speakers and also if you are short for cash, then a 5.1 surround in wall speakers will be your best bet. It usually comes with 5 in wall speakers and 1 sub woofer.
This combination will definitely work well for tight and limited spaces and is very budget friendly.
3. The application of the speakers
Finally the application of the speaker should also be considered before making a purchase.
Most in wall speakers are suited for low bass and have very loud sound
So this will definitely guide you in making a purchase for something that will last for a very long time.
Related: Here is a detailed guide about everything speakers.